Next time you're at Toys-R-Us and your eight-year-old begs you to buy that battery operated toy electric guitar with a built-in speaker, get it – you may have the next Jason T. Miller on your hands!
Years after veteran arranger and TV/film composer, Bruce Miller, bought the kiddie instrument for his son, he is not only collaborating with Jason (as co-composers of the score to CBS's hit sitcom "The Odd Couple," starring Matthew Perry) but also playing the role of proud papa as Jason continues to establish himself as a dynamic, versatile, independent behind-the-scenes force in the music industry.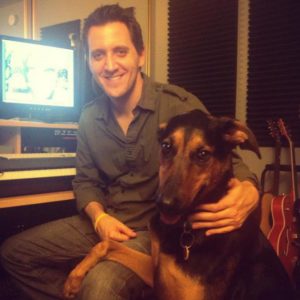 Before Jason's multi-instrumentalist dad became a first-call TV composer, he was enjoying a busy career as an arranger/producer/musician for numerous pop, R&B, jazz and gospel artists including several Motown acts, Rod Stewart and Joss Stone, to name a few.
Jason's childhood included attending sessions featuring the best musicians in the business. Impressed by Jason's prowess on the guitar, many local bands offered him gigs during high school, but he wanted to play more than just three-chord punk-pop. At 17, he was invited to join his high school science teacher's blues/rock band and performed at venues throughout L.A., oftentimes accompanied by his parents since he was underage.
Then came NBC's "Frasier" and Dr. Crane's annoying upstairs neighbor.
"One of the first TV scores I played on was playing the heavy metal riffs of Kelsey Grammer's neighbor," Jason said. "People think when your dad's a well-known composer, it's easy to play the nepotism card, but that sometimes makes it more challenging. When he was hired to do the music for the CBS/Ted Danson show "Becker," my dad auditioned a bunch of veteran session guitarists, but the producers of the show liked the demo I did and thought it fit the vibe of Danson's character, who was a rough, offensive doctor in the Bronx. When I graduated college, I was still doing all of the guitar work in the show's music."
While still enrolled at UCLA, Jason's virtuosity also earned him numerous accolades in the rock and guitar worlds. Jason won the national "Jam with Kenny Wayne Shepherd" guitar competition in 2000 and was one of five finalists in the 2002 "North American Rock Guitar Competition." He was also featured in such publications as Guitar Player, Blues Revue, Parade Magazine and on Fender Guitars' official website.
While developing his resume as a television composer and continuing to work on projects with emerging songwriters and artists, Jason scored two major superstar coups in the R&B and hip-hop worlds. Collaborating with Kanye West, he co-wrote and produced "Good Night," a track featuring Mos Def and Al Be Back, which the rap mogul recorded as a bookend to "Good Morning," the opening track on West's multi-platinum, triple Grammy Award winning album "Graduation." The song was available as a bonus cut for those who purchased the album on iTunes and on the album's release in Japan, Australia and the U.K., where it hit #1.
In 2009, Grammy nominated R&B singer Keyshia Cole recorded "This Is Us," a tune Jason co-wrote on her platinum selling album "A Different Me." Jason is also credited as a co-producer of the track with legendary A&R executive, songwriter and producer Ron Fair, who was the executive producer of the project.
In April 2015, country legend Reba McEntire recorded "Promise Me Love," co-written by Jason, and released on her 27th studio album, "Love Somebody."
One of the most meaningful projects he's been involved with to date was for Hillary Clinton's 2016 presidential run, scoring- alongside his father- a short documentary film about Hillary's mother titled "Shoulders" that was released during the Democratic National Convention. The film also included a cover of Josh Groban's smash hit "You Raise Me Up," produced by Jason and Bruce. Just days after its release, the video has amassed millions of views online.
These days, Jason is as busy in the record world as he is as a composer. In addition to providing the score to "The Odd Couple," Jason is collaborating with artists of different genres as a writer and producer, and is also scoring commercials. Recent campaigns scored include Disney, Pizza Hut, and Kay Jewelers, among others.
As for what the future holds? "More of the same, hopefully," says Jason. "Being able to make a career for myself doing what I love in both the record and scoring worlds is all I can ask for. You do your best and hope for a little luck along the way!
*Edited from a bio written by Jonathan Widran